Tweet
Site Links
Ministry of Internal Affairs and Communications (MIC)
… The Ministry of Internal Affairs and Communications is the main agency for spectrum use and frequency assignment in Japan.
Frequency Assignment Plan

…The Frequency Assignment Plan is a table showing assignable frequencies in Japan. The Plan is established and disclosed by the Minister for Internal Affairs and Communications under the provisions of Item 1 of Article 26 of the Radio Law. Radio astronomy observations are assigned various bands above 13 MHz in Chapter 2 (Frequency Allocation Table).

The Radio Use Web Site

…The Radio Use Web Site is the website on information regarding the use of radio waves set up by the Ministry of Internal Affairs and Communications.
International Organizations Related to Frequency Management
(Organizations related to radio astronomy)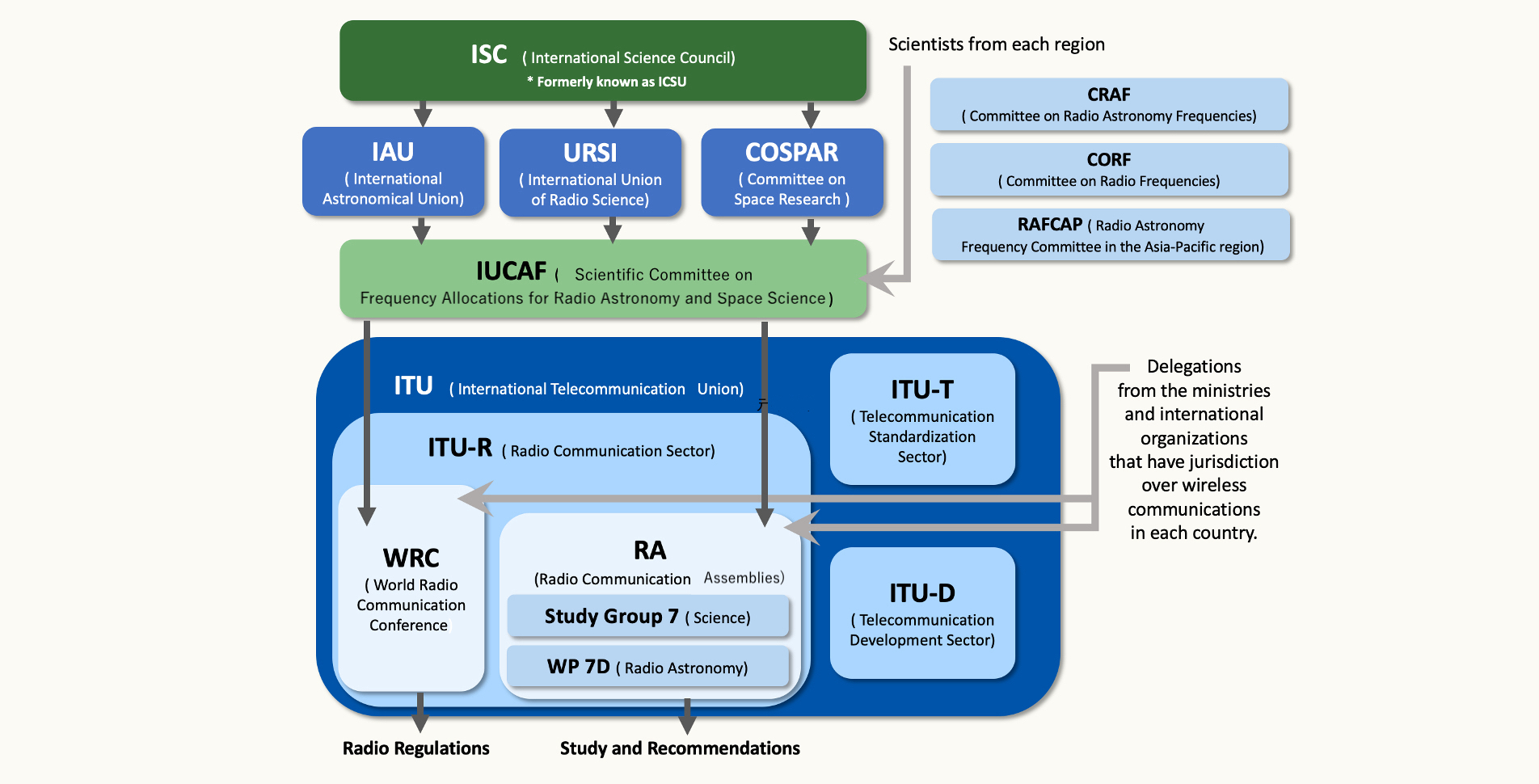 * Click the organization name in the figure to go to the organization's website.
…The International Science Council (ISC) was created in 2018 as the result of a merger between the International Council for Science (ICSU) and the International Social Science Council (ISSC). The ISC is a non-governmental organization with a unique global membership that brings together over 200 international scientific unions and associations as well as national and regional scientific organizations including academies and research councils. ISC's headquarters : Paris

…The International Astronomical Union (IAU) was founded in 1919 to promote and safeguard the science of astronomy in all its aspects, including research, communication, education and development, through international cooperation. IAU's Secretariat : Paris

…COSPAR was established to promote at an international level scientific research in space, with emphasis on the exchange of results, information and opinions, and to provide a forum, open to all scientists, for the discussion of problems that may affect scientific space research.

…The International Union of Radio Science (Union Radio-Scientifique Internationale), a non-governmental and non-profit organization under the International Council for Science, is responsible for stimulating and coordinating, on an international basis, studies, research, applications, scientific exchange, and communication in the fields of radio science. URSI is organized into 10 scientific commissions, each of which covers a specific piece of the spectrum and associated technical applications. The Commissions are: Electromagnet Metrology, Fields and waves, Radiocommunication Systems and Signal Processing, Electronics and Photonics, Electromagnetic Environment and Interference, Wave Propagation and Remote Sensing, Ionospheric Radio and Propagation, Waves in Plasmas, Radio Astronomy, and Electromagnetics in Biology and Medicine.

…IUCAF is an international committee (set up in 1960 by URSI, IAU, and COSPAR) that works in the field of spectrum management on behalf of the passive radio sciences, like radio astronomy, remote sensing, space research, and meteorological remote sensing.

…The International Telecommunication Union (ITU) is the United Nations specialized agency for information and communication technologies- ICTs. ITU was founded in 1865 to facilitate international connectivity in communications networks. It allocates global radio spectrum and satellite orbits, develops the technical standards that ensure networks and technologies seamlessly interconnect, and strives to improve access to ICTs to underserved communities worldwide. ITU has three specialized Sectors; ITU Radiocommunication Sector (ITU-R), ITU Telecommunication Standardization Sector (ITU-T) and ITU Telecommunication Development Sector (ITU-D). The Radiocommunication Bureau, organized under the Radiocommunication Sector, regularly organizes conferences and meetings as well as bi-annual seminars/workshops on frequency management and radiocommunication systems.

…World radiocommunication conferences (WRC) are held by ITU-R every three to four years to review, and, if necessary, revise the Radio Regulations, the international treaty governing the use of the radio-frequency spectrum and the geostationary-satellite and non-geostationary-satellite orbits. Revisions are made on the basis of an agenda determined by the ITU Council, which takes into account recommendations made by previous world radiocommunication conferences.

…Radiocommunication Assemblies (RA) are held by ITU-R and are responsible for the structure, program and approval of radiocommunication studies. They are normally convened every three or four years.
Regional Committees on Radio Astronomy Frequencies
… CORF was founded to consider the needs for radio frequency requirements and interference protection for scientific and engineering research, coordinate the views of the U.S. scientists, and act as a channel for representing the interests of U.S. scientists in the work of the Scientific Committee on Frequency Allocations for Radio Astronomy and Space Science (IUCAF) of the International Science Council. CORF monitors and responds to radio frequency interference and allocation issues as they arise and works closely with the spectrum manager at the National Science Foundation (NSF) and the NASA Spectrum Management Office.

… CRAF was founded as an ESF (European Science Foundation) expert committee that coordinates activities to keep the frequency bands used by radio astronomy and space sciences free from interference. CRAF works towards this aim by coordinating the case for radio astronomy and space sciences in Europe in discussions with the major public and private telecommunications agencies, acting as the European voice in concert with other groups of radio astronomers in discussions within the international bodies that decide on the use of the radio spectrum, and initiating and encouraging scientific studies aimed at reducing interference at the source and the effects of interference.

… RAFCAP was founded in 2001 as an Asia -Pacific regional expert committee that coordinates activities to keep the frequency bands used by radio astronomy observations free from interference. RAFCAP provides scientific advice for the coordination of a common Asia-Pacific policy on frequency protection for radio astronomy and related sciences, promotes understanding on the issue of passive frequency use for scientific observations, provides a discussion forum on interference issues in passive frequency use, and increases public awareness of these fields at the Asia-Pacific level and the world level.
Organizations Related to Light Pollution Prevention
…The United Nations Office for Outer Space Affairs (UNOOSA) works to promote international cooperation in the peaceful use and exploration of space, and in the utilization of space science and technology for sustainable economic and social development. They assist United Nations Member States to establish legal and regulatory frameworks to govern space activities and strengthen the capacity of developing countries to use space science technology and applications for development by helping to integrate space capabilities into national development programs.

…The Committee on the Peaceful Uses of Outer Space (COPUOS) was set up by the General Assembly of the United Nations in 1959 to govern the exploration and use of space for the benefit of all humanity: for peace, security and development.
Other Organizations or Projects
…The Optical and Infrared Synergetic Telescopes for Education and Research (OISTER) is a project to establish an observation network including 1-meter-class optical-infrared telescopes located both within and outside Japan, the Seimei 3.8 m telescope, and the Subaru Telescope, aiming to develop the time-domain astronomy for multi-messenger astronomy. The participating partner institutions are Hiroshima University, Hokkaido University, Kagoshima University, Kyoto University, Nagoya University, National Astronomical Observatory of Japan (NAOJ), Saitama University, University of Tokyo, Tokyo Institute of Technology (Tokyo Tech), and University of Hyogo.