Science Culture Promotion Unit through Astronomy Image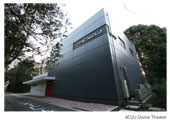 National Astronomical Observaotry of Japan (NAOJ) has started a new project, the Science Culture Promotion Unit in collaboration with Mitaka City Government since 2007.
The aim of the project is to help bring up talents who create astronomical visualized images such as theoretical-based contents of 4-dimensional digital universe project (4D2U) or the observational images acquired by Subaru telescope and other instruments, and also who produce new community business with the positive profit use of such image contents.
This project has this for its objective that the contents and techniques using them will have the added value in next generations. NAOJ tries to make a contribution towards Mitaka City becoming the internationally fit place for creating the three dimensional contents in the future.
Activity
The Science Culture Promotion Unit open the courses to bring up two type of human resources.
'Science Image Creators' and 'Science Producers'. With these two talents, we aim at an advanced case with a regional redevelopments by the science culture.
Science Image CREATOR:create valuable image contents using the fruits of astronomical and scientific researches with stereoscopic and dome theatrical techniques.
Science PRODUCER:set out with the new purpose of searching the public needs, sharing scientific information with general public, and then utilizing scientific resources for people in general..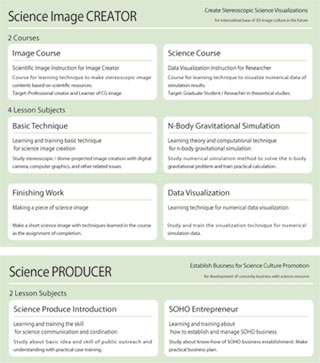 Achievements
Carrying out Training Course
As a main mission of this project, course program for two talents to be trained has been carried out since 2007.
Sciencce Producer Course
| term | period | completion student |
| --- | --- | --- |
| 01 | 2007 Oct. - 2008 Mar. | 8 |
| 02 | 2008 May - 2008 Sep. | 11 |
| 03 | 2008 Oct. - 2009 Mar. | 8 (Now in carrying) |
Sciencce Image Creator Course
term
period
completion student
01
2008 Oct. - 2009 Mar.
I course: 10
S course: 3
(Now in carrying)
Vision of SCPU
 This Unit will achieve four missions (we call them'sci-4') through incubation of two talents: Science Image Creator and Science Producer. In the close collaboration with regional government, aim to reproduciton of Mitaka region.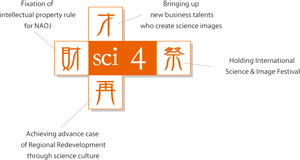 Tokyo International Science Festival

featuring Full Dome & Stereoscopic Movies
for the International Festival of Scientific Visualization
Contact
NINS, National Astronomical Observatory of Japan, Public Relations Center
Science Culture Promotion Unit through Astronomy Images
2-21-1 Osawa, Mitaka, Tokyo, 181-8588, JAPAN
(Phone) +81-422-34-3802
(Facsimile) +81-422-34-3812
(e-mail address) ashub-info@nao.ac.jp
---