For Attendees
Some of the event staff can speak English, but the Regular Stargazing Parties are conducted primarily in Japanese. We appreciate your understanding and cooperation.
To make for an enjoyable Regular Stargazing Party, please read the following beforehand.
1. Before you arrive
Please note the following points before you arrive.
Please dress in comfortable clothes and shoes which are easy to walk in. (Please refrain from wearing shoes which light up because the light interferes with the stargazing activities.)
In the summer, please take precautions against insects. In the winter, please take precautions against the cold.
The area where the Regular Stargazing Parties are conducted is designated non-smoking.
Please do not bring your pets with you. (Service animals are allowed.)
2. Registration
Registration is located in the lobby of the Central Building (the short building located directly ahead as you enter the Front Gate) of NAOJ Mitaka Campus.
In order to ease congestion, please follow the specified times.
At Registration, please present proof of your reservations (an email printed out or displayed on the screen of your cellphone, a post card, etc.) in order to receive your ticket and reference materials (English materials available upon request).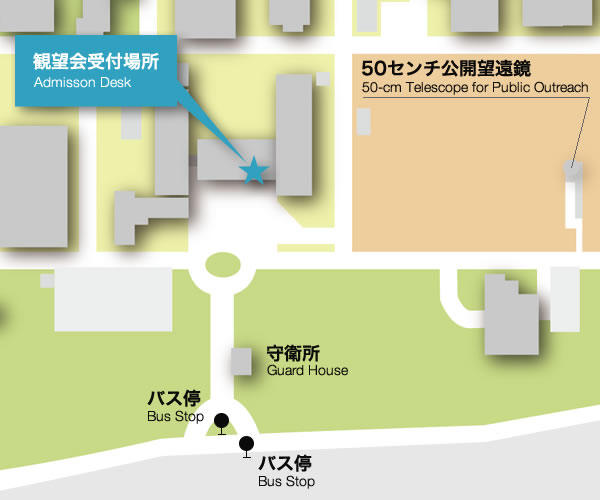 3. Orientation
The orientation (Japanese language only) session in a lecture room lasts approximately 10-15 minutes.
4. Astronomical Observation (Fair Weather Only)
In the case of rain or bad weather, astronomical observations can't be conducted.
The orientation in the lecture room will be extended by about 15-20 minutes.
In cloudy weather, after the orientation, tours of the 50-cm Telescope for Public Outreach will be conducted in Japanese. (In the case of rain, you are free to leave after the orientation.)
A Regular Stargazing Party will be canceled if a weather warning is announced or if we determine that there is a danger to the participants. Cancelation notifications will be announced via Twiiter (Japanese language only).